60W 6000lm Touch Control Portable LED Work Light
SKU: NTW01S-CW-US-F
Brand: Novostella
Wattage: 60W
Input Voltage: AC 100-120V
Material: Aluminum + Glass
CCT: 2700K-6500K
Lumens: Max 6000lm
Dimmable: YES
LED Qty: 180 pcs*SMD3030
Control Type: Touch Control
Plug: US Plug
Cable Length: 5M
IP Rating: IP65 waterproof
Dimension: 225*315*50mm
SKU: NTW01S-CW-EU-F
Brand: Novostella
Wattage: 60W
Input Voltage: AC 220-240V
Material: Aluminum + Glass
CCT: 2700K-6500K
Lumens: Max 6000lm
Dimmable: YES
LED Qty: 180 pcs*SMD3030
Control Type: Touch Control
Plug: EU Plug
Cable Length: 5M
IP Rating: IP65 waterproof
Dimension: 225*315*50mm
SKU: NTW01S-CW-UK-F
Brand: Novostella
Wattage: 60W
Input Voltage: AC 220-240V
Material: Aluminum + Glass
CCT: 2700K-6500K
Lumens: Max 6000lm
Dimmable: YES
LED Qty: 180 pcs*SMD3030
Control Type: Touch Control
Plug: UK Plug
Cable Length: 5M
IP Rating: IP65 waterproof
Dimension: 225*315*50mm
【Dimmer with Touch Sensor】
Short press the touch sensor to turn on/off the light. Long press the touch sensor to adjust brightness.
【Super Bright & Power Saving】
112 ultra bright LED chips SMD2835 produce 6000lm super brightness. Replace 480W traditional halogen bulb and save 85% on electricity bill of lighting. The work lights they emit is very color-neutral. Since the 112 LEDs are not a single light source like a halogen bulb, and the light is a diffused fade instead there isn't a hard shadow edge.
【IP65 Waterproof】
Highly light transmittance, Sealed on/off switch; For indoor/outdoor location, ideal supplies for Building Construction.
【Excellent Heat Dissipation & Durability】
Resilient die cast aluminum housing, multiple Groove shape design on the back side increases air contact area and speeds up heat dissipation, extending the service lifespan. Our Flood lighting featured with sturdy tempered glass, it is safe, durable, solid with extremely high light transmittance.
The item will be under a limited warranty for 2 years from the date of invoice issued. If the item is defective, damaged, or malfunctioning in any way, just contact us for an easy and fast replacement.
This warranty does not cover:

- Improper assembly or installation.
- Improper follow-up maintenance.
- improper use, mishandling, faulty transportation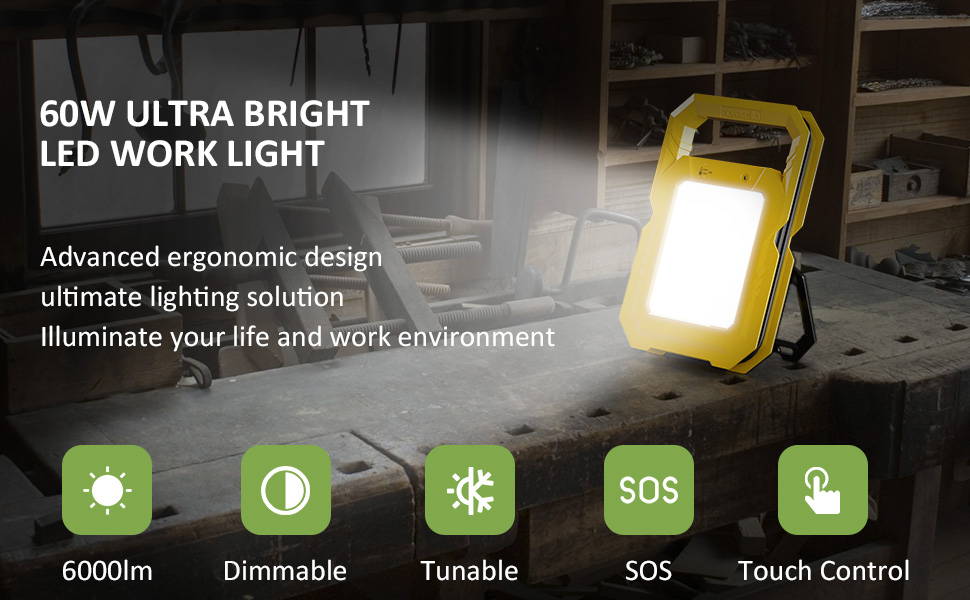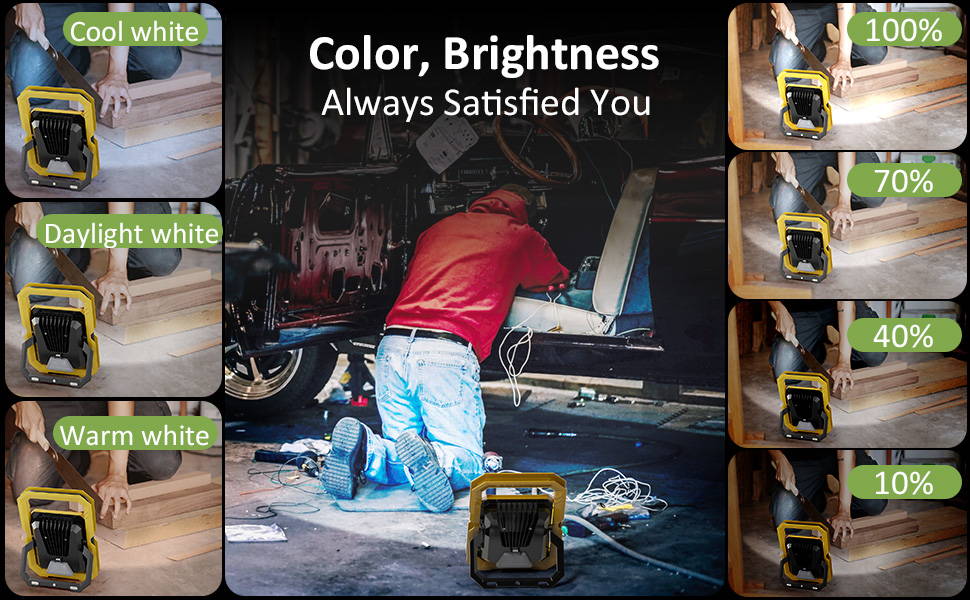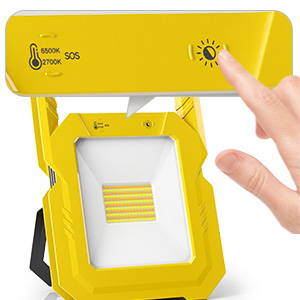 Adopt touch function, this work light is more convenient to be controlled. Touch to turn on/off, touch to adjust brightness and color, say goodbye to the complexity of traditional switches.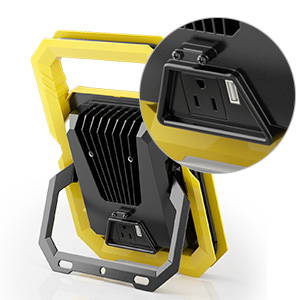 Added AC and USB socket, the led work light can be connected to more work light, an electric drill, phones or other electrical tools, which make you work more convenient.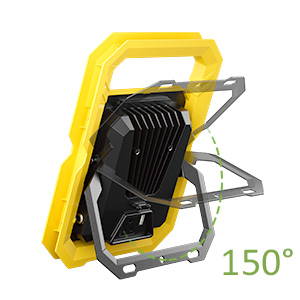 With a 150° ratating stand, this portable wok light can adjust lighting area, and can be easily folds into one compact unit for storage and transportation.